In the world of aged care, routine activities can sometimes feel repetitive. But what if we told you there's a way to inject some Hollywood glamour and magic into your senior care program? Yes, you read that right – we're talking about bringing the Oscars to your very own aged care facility. It's a fantastic way to make your cherished senior residents feel like the stars they truly are!
The Oscars isn't just a glitzy event for Hollywood; it's also a great opportunity to infuse a dose of nostalgia into the lives of your senior residents. While some of the modern movies and movie stars might be unfamiliar to our elderly population, adding a touch of the past can rekindle cherished memories. Join us in this guide as we explore a range of creative ideas to make your Oscars-themed day not just fun but memorable, too.
Hosting the Oscars in Aged Care
Step 1: Transform the Room with an Oscar-Worthy Theme
Before you roll out the red carpet, let's set the stage for a truly immersive experience. Decorate the room to resemble a scene right out of the Oscars. Create an ambiance that combines the charm of Hollywood classics with the allure of modern blockbusters. Adorning the room with the right elements will transport your senior residents to a cinematic wonderland, providing an unforgettable experience that they'll treasure.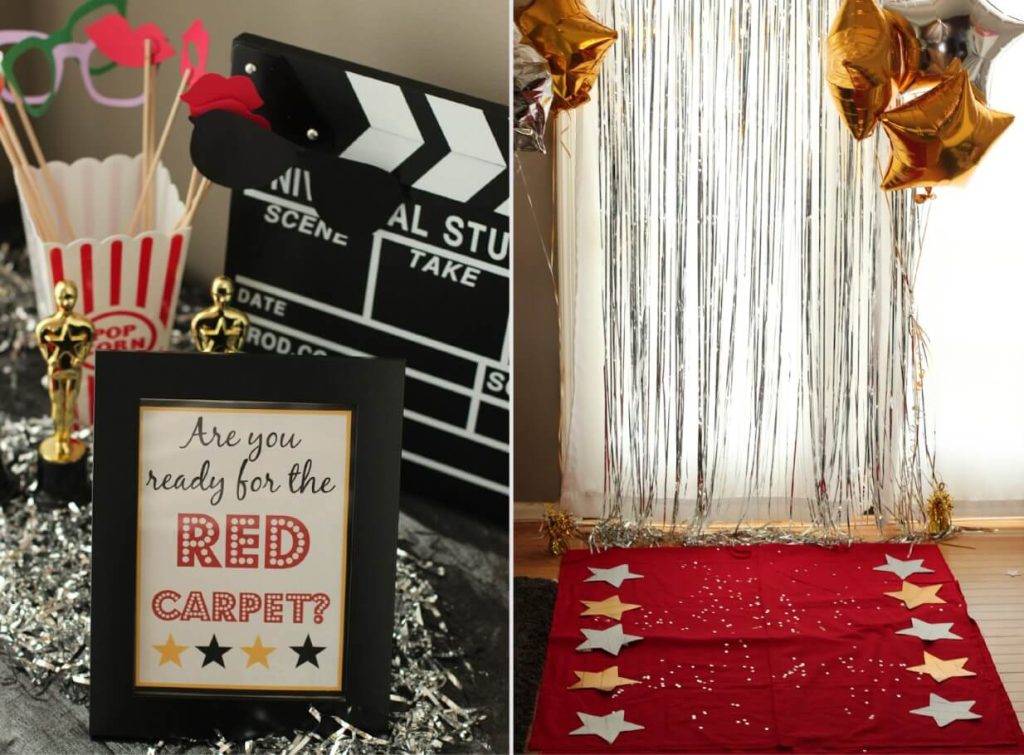 Step 2: Lights, Camera, and Roll Out the Red Carpet!
No, we're not kidding! Start your Oscar-themed event with a dramatic entrance. Roll out the red carpet right into your activity room. And if you're feeling extra fancy, why not add a few faux paparazzi to capture those memorable moments? It's not every day our senior residents get to experience Hollywood-style grand entrances!
Step 3: A Taste of Hollywood Elegance
Hollywood is synonymous with elegance, right? So, let's not skimp on the refreshments. Serve Tea, Coffee, and Sparkling Wine Treat your senior residents to a taste of Hollywood luxury by serving a delightful selection of beverages. Offer a variety of teas and freshly brewed coffee to cater to different preferences. And for that touch of extra glamour, present sparkling wine in chic champagne flutes. Complement these beverages with a delectable assortment of small cakes and cheese & crackers to complete the Hollywood-style indulgence.
Step 4: Watch the Stars Arrive on the Big Screen
Okay, so your residents might not recognize the latest Hollywood heartthrobs, but that's no problem! You can watch this year's nominees or, for a trip down memory lane, use YouTube to revisit the glamorous arrivals of the past. Nostalgia overload guaranteed!
Here are YouTube clips of Oscar arrivals from 1989 and other memorable years to transport your residents to Hollywood's golden era.
Step 5: Run a Movie Quiz and Share Trivia about the Oscars
Get your seniors engaged with a delightful movie quiz. Running a movie quiz and sharing Oscars trivia is a fantastic way to engage your senior residents and create a fun, interactive experience. Craft entertaining questions about the Oscars, Hollywood classics, and iconic movie stars, and encourage participation in teams or individually, and consider giving out lighthearted awards to participants. This activity not only entertains but also stimulates memory recall and provides an opportunity for residents to connect with their peers. It's a lighthearted and educational addition to your Oscars-themed event.
Click here to see the movie quiz that we prepared for you.
Step 6: Show Clips of the Latest Nominated Movies
Bringing a bit of modern Oscars into the mix is more accessible than ever, thanks to the wonders of technology. You can elevate your Oscars-themed event by showing clips of the latest nominated movies. It's not just a form of entertainment but also a fantastic opportunity for your residents to gain insight into how the art of filmmaking has evolved over the years. They can witness the magic of cinema and the technology used to create these cinematic masterpieces, from stunning visual effects to powerful storytelling.
Here are YouTube clips of the 2023 Oscar nominations, allowing your residents to be a part of the Oscars buzz right from the comfort of your facility:
Step 7: Finish the Afternoon with a Great Classic Movie
To conclude the Oscar-themed event, pick a timeless classic like 'Casablanca,' 'The Wizard of Oz,' 'Singing in the Rain,' 'Breakfast at Tiffany's,' 'Lawrence of Arabia,' 'Mary Poppins,' or 'My Fair Lady.' Create a mini movie theater experience with popcorn, ice cream cones, and refreshments, and let everyone enjoy a cinematic masterpiece.
In Conclusion
Hosting the Oscars in an aged care setting isn't just an event; it's an experience that brings back wonderful memories, offers entertainment, and fosters a sense of togetherness. So, dust off your tuxedos and evening gowns, and get ready for a day of Hollywood nostalgia right in your very own aged care community. Lights, camera, and, most importantly, heaps of fun await!
Incorporating such creative and engaging activities can do wonders for your residents' well-being and overall happiness. It's about turning those golden years into a golden evening filled with fun, laughter, and the glamour of Hollywood. After all, we believe that seniors deserve nothing less than the star treatment!