Doing craft and cooking activities during Thanksgiving is a great way to bring family and friends together. For seniors living with Alzheimer's activities like this can be therapeutic helping to take the mind off stresses and enjoy the moment. 
How to make an Autumn Leaf Mason Jar Candle Holder
---
Materials needed:
⚫ Mason Jar
⚫ Modge Podge or PVA Glue
⚫ Autumn Leaves (real or fake)
⚫ Sponge brush
⚫ Tealight candle
---
Instructions:
1. Clean outside of your jars with rubbing alcohol to get any grease and grime off the outside of the jar. The leaves won't stick if the jar is oily or dirty.
2. Then make sure your leaves are malleable. Bend them a little bit to loosen them up. Stiff leaves won't stick either. The thinner the fabric leaf the better. You can also iron fabric leaves as well to loosen the fibers.
3. To decoupage, dip your brush in the Mod Podge and paint a thin layer on a section of the jar. Once that layer becomes quite sticky (check with your finger), place a leaf on the jar.

4. Paint more Mod Podge on top of the leaf in thin layers, making sure to smooth out the edges. Start in the center of the leaf, and push your way out to the edges with your fingers. It may take a few layers, but the leaf should stick to the jar. I had to press a few times to get the leaves to stick; but as the Mod Podge dries, it should. Don't be afraid to use your fingers to smooth out the leaf so that it is fully secure. Layer more leaves on top, filling the jar with as many as you desire.
5. Once all the leaves are on, it will take a few hours to dry completely. The tiny edges of the leaves may not stay completely down, but when the look is complete, you may barely even notice.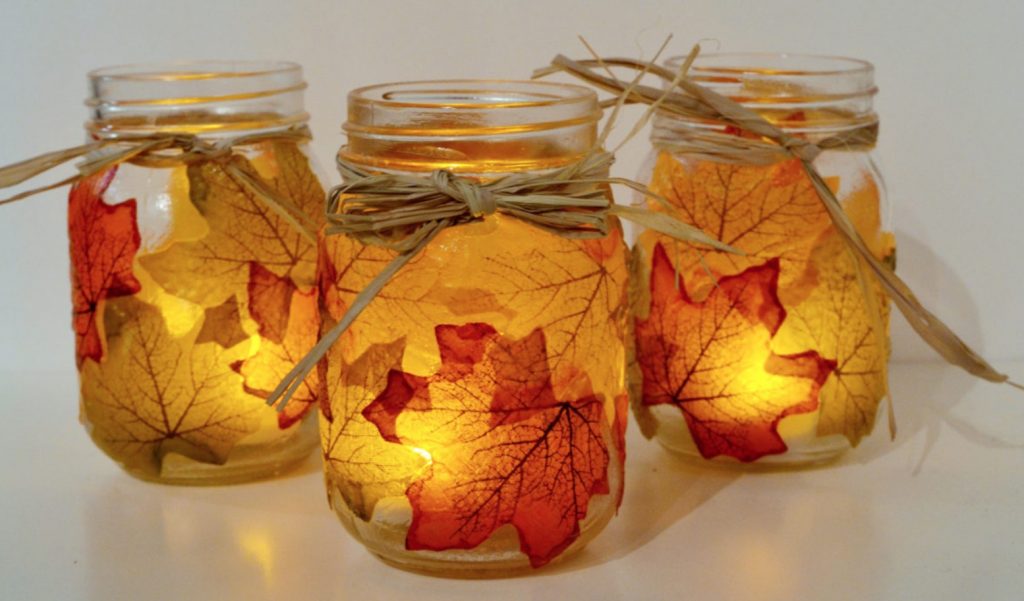 ---
Recommended for you:
Flower & Gardening Quiz
Painting Using Leaves
Retro TV Trivia Quiz